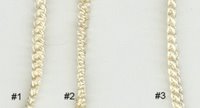 Well, here we are after 3 tries.....I had this ready to publish and lost it. That's the story of my day today. oh....the "recover post" didn't work but I opened another window and found the saved draft copy! I've been working on the crochet cord for the macrame crochet lace, also known as Venetian Lace and most recognizably these days as Romanian Point Lace. I was referred to yahoo group
CrochetLace
which had all kinds of great help! I also borrowed some books and a video from I.O.L.I. library, one book which someone from another group referred to me....and wow! There's some cool stuff in there. Sample #1 is the first one which I felt didn't match the photo in the description of the project. #2 is my second try with more explicit instructions, but it still wasn't right. In #3, i finally understood that I needed to put my hook under two bars after the initial one. You can see it is much more consistent on both sides. There are supposed to be the hint of loops on both sides, not just one. Although...there are several different braids/cords so I could use the other ones too. I have enough now to start a project. I got the plastic film to put over the pattern tonight on my way home.
I didn't tat at all this week so during my lunch hour, I pulled out a bag of thread-wrpped floss holders and found one with 4 strands of orangey embroidery floss - the perfect color for another
tabby cat
from BeStitched. I messed up the tail a bit. I couldn't see the stitches that well to hide the ends and I couldn't cut and glue like I planned to do because I couldn't find the glue that I
KNOW
is in my desk somewhere. It's been like that all day. I'll spare you the details.
Last week I was looking through some old files and found my "tatting status" record in 2002. I think this was in response to a post on a list about what you wanted to learn in the coming year.
Techniques used in 2001

Split ring
Split chain
Woven picots
Cluny tatting
Beads
Mignonette stitch


Challenges for 2002

SMCR
Magic thread trick
Fringe
2001 was a major year in tatting techniques! I wish I'd recorded when I tried block tatting and double/triple picots and lockstitch chain and a whole slew of other things that don't come to mind now.
Realized today that I somehow missed getting email notification of the latest
CQMagOnline magazine.
As always, lots of unique and inviting stuff in there. One link led to a very interesting gallery of men's undies that were decorated and auctioned as a fundraiser for The Prostrate Cancer Foundation of Australia.
Next week at my sister's we will be decorating baskets that will go to another fundraiser for breast cancer. My sister's daughter-in-law is director of the organization in IL that we are making them for. My sister is a breast cancer recoveree person. I hate the word survivor myself. I just had my mammogram. Have you? I got my letter yesterday that all is normal. I also have to say that my belief system doesn't agree with scare tactics. I think they create as much as they prevent...but in terms of personal health and responsibility....it's a good and usually free screening, so why not take advantage of it?