I wanted to show 2 of my tea-for-ones but my digital camera is not cooperatng. It's only gotten contrary since I got home. Fortunately. Maybe it will work before the evening is over. I actually took 2 pics but it didn't transfer and now it won't work...says "system error," whatever that means. Maybe it means "go buy a new camera." LOL! I really wanted to buy one of those small webcams that would also take still photos but I couldn't justify it. My camera is fine - just already outmoded. I bought it right before I went to Hopie's two years ago. I've never been completely happy with it...but I'm gonna be pissed if it dies now when it could have died before I went to Oz and I woulda had my justification to buy a new one! Actually, now that I think about it - it didn't work right while I was there. There were several photos taken at the Lone Pine Sanctuary that did not show up in the download. I had a wonderful one of Garryck petting kangaroos and I know he snapped one of me doing the same. There were several of the emus....not one was downloaded...so evidently, the camera was malfunctioning. It's hard to tell when it clicks in broad daylight, but I could have sworn I checked the one of Garryck petting the kangaroo and I commented on how good it was so I was VERY disappointed when it wasn't there.
It's working now...so I guess it just needs to rest periodically. LOL!
First I'll show you some of my new tea infusers that I bought at the
The Tea Centre.
I first noticed a duck on someone's blog and I emailed and asked where she got it. So when I found out it was in Brisbane, I was sure I would go there. I managed to get the duck from another source by mailorder but I couldn't remember, once I got there, if I had actually bought it, so I bought another one. I also got the lovely butterfly and sweet bunny and a teapot shaped that I didn't already have....and one that I did have.
The tea-for-one that I bought there is at work and I didn't get a photo of it yet - but it has the same shape as these, but with a Bird scene on it. There were so many there - including some collector's items way above my budget - and I had trouble picking! The two shown here were purchased elsewhere. This particular shape/style seems to be popular there. I got the bigger one at The Lace Place in the Queen Street Mall. I noticed The Lace Place was at the Fair too (now that I look at the brochure closer) and that's WHY some gifts I bought at the fair were also in this shop. LOL! I got the little tea-for-one at a fabulous shop while I was with Maureen just a few days before I left. I'll probably cover that more later but in the meantime, for Aussies....this is Shirley Hagens' Classy Crafts and she has 2 locations, Sandgate Arcade on 2nd Avenue and at 37 Hall Street, Chermside. That's where I got my orange Coates thread too. She had several of these miniature tea-for-ones...and my luggage was already stuffed to the gills...but I couldn't resist. I didn't have any quite this small.
Oh, now this is interesting....a flyer in my bag from Shirley's advertises a
Christmas Craft Fair
sponsored by the Hendra Nundah Ladies Bowls Club at the Club's Function Room at 25 Lethern St, Hendra. It's
THIS
weekend folks, November 13, 2005 from 9 a.m. to 3:00 p.m. and includes over 20 craft stalls ( I bet Shirley is one of them) AND it says it includes a Devonshire Tea AND "
a clairvoyant will be available for readings during the day."
I'm not having any luck electronically today. When I tried using the auto download on this, where it allows text to roll around the photos...it won't work. So I have to do the manual html thing again.
Well, I won't show EVERYTHING I bought today, but I am showing the stuff I got at the Fair in addition to the tea-for-ones. I also bought a tea book and a tea spoon at the Tea Centre and I was going to go back and get some tea...but I didn't make it there again.
Here are the beads I bought at the fair. The bugle beads came from somewhere else.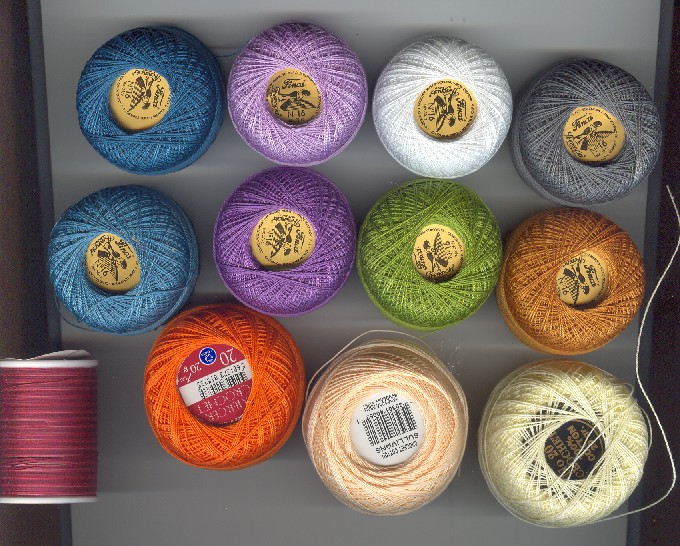 And the thread from the fair. I'll show the AIDA later. The pincushion is for me. I would have liked it in different colors but this was the only one there.
Okay, that's it about Australia for tonight. More later. I have photos to edit...so I'm doing them as I go and the next batch will be numerous. I won't show them all here, of course. In the past few days, I've been working on a project sponsored by Karey Solomon in her latest Tatting Times Publication, which was waiting for me when I got home. This is the Heirloom Replacement Project/Katrina Ornament. Karey gave us the instruction for a one round beaded ornament which will be distributed by another group to those who lost all of their possessions - including holiday decorations. This cute and informative tatting booklet comes out quarterly and is only $14.00 per year. This was the last one for the quarter. If you would like to get next years', send subscription mail info and payment to: Tatting Times, P.O. Box 9, Hector, NY, 14841. I would love to do this myself, but I don't think I could come up with enough ideas even for one quarterly issue. I suppose I could do a representation of this blog on a quarterly basis - the best of the blog. LOL!