Home again, Home again, Ziggity Zag!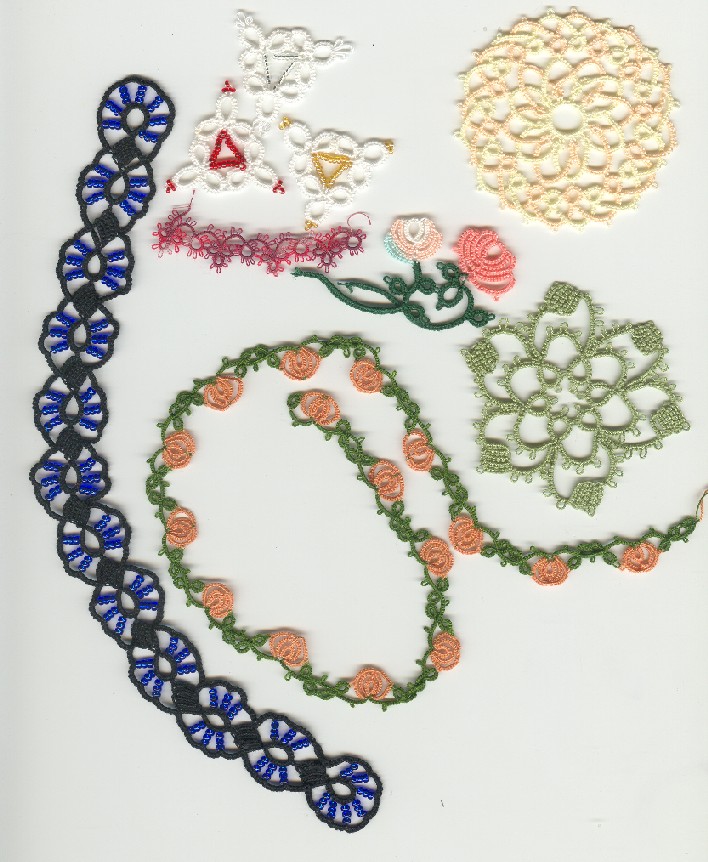 I'll bet you're wondering what I was tatting while I was gone! I just HAD to try out the new threads and beads I bought as well as the patterns in Judith Connors' book. The black and blue choker on the left is from Judith's book,
Creative Tatting with Beads, Shuttle and Needle.
Actually, I didn't make it long enough for a choker. I don't wear them and anyone I thought of making it for wasn't around for me to measure their neck - not that I had a tape measure with me anyway- so I decided belatedly that I would make a bracelet out of it. LOL! Ever hear of a thigh bracelet? It's way too big for my wrist....so I will probably put velvet ribbon at the ends and my granddaughter can use it for a headband....or a choker. I was anxious to try the bead treatment with the block tatting between motifs. It still hasn't been blocked, which would shape the scallops on the outer edge. The thread was black Aida, size 20, one of several balls I purchased at
Crochet Australia.
I don't really use size 20 a lot these days but I really like the Aida brand and much of my T.A.T. phase 2 tatting requires size 20.
The 3 triangle beaded ornaments are leftovers from my lace group class. I had a few shuttles wound with beads if anyone needed them so I tatted those up to empty the shuttles.
The red edging sample below those are tatted in red varigated Coates quilt thread that I bought recently. The pattern edging is from Rita Cochrane of Threads Plus. It was on the back of her business card. No website to refer to but if you would like to support Canadian business, contact me and I'll put you in touch with her. I didn't particularly like the way the color played out with this thread but I'll try a few other motifs which may change the way the pattern repeats and if I still don't like it....then somebody will get it. LOL! I think I bought it at Walmart on a whim so I'm not overly attached to it. Looks pretty on the spool.
Next to the edging are the Mary Konior roses that I like to empty shuttles with.
In the upper right is the first Judith Connors motif I made. This is from two off-brand threads that I bought in the Brunswick St. mall in a little "dollar" like store. The yellow is "Sullivan's", made in Hungary. The peach is also "Sullivan's" but has no other label. This is called an interlace medallion. Some would call it celtic. It was fun to do, though you had to pay attention. It's about coaster size. It would also fit into the bangles I bought very nicely - making a lovely suncatcher with the right beads.
The green motif below was also from Judith's book. It's a motif from her Marguerite, A bouquet of daisies doily. I tatted it in the Aida size 20 and it was just a teensy bit large for the bangle though it would fit if I were a tighter tatter or used a slightly smaller thread. You might have noticed I like the block tatting effect.
And lastly, Heidi Sunday's
pumpkin vine edging.
I'm tatting it for a holiday towel edging. This one is done in size 16 Finca, which I bought at the Craft Fair in Brisbane that I attended with Maureen. It will go nicely with the towel I'm putting it on, but I have another one that really is a stronger orange. Well, whaddya know....Maureen and I were out and about on Monday at even more stores and I found a Coates bright orange! Size 20, so it will be a bit bigger than this edging but it's the perfect color!
These sweet trees were started before I left for Brisbane and then a few more were tatted on the flight and during my 1st few nights, adding the gold stars last. I tatted them for giveaways...and they are now GONE, except for one. LOL!
Tomorrow (I hope) I will tell about the places I went to with Maureen and the lovely ladies I met. I'm slowly getting my nights and days turned back around and right now, I'm beat.