Everyone seems to think I still have jet lag. It's not that - it's being gone for nearly three weeks and then trying to catch up....and we're approaching the holidays......which is always hectic. I feel somewhat close to overwhelm-nant part of the time, so I'm making an effort to cut out a few things. Computer time is one, though I still seem to be on it far longer than the average person.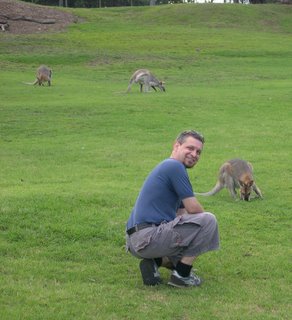 Okay, picking up not exactly where I left off....I'm skipping over most of the other stuff and just focusing here on tatting or lace. I will mention here that my primary reason for going to Brisbane was to meet long-time friend Garryck and while he made some efforts to help me find craft and thread stores, I left that up to Maureen for the most part. Here's a pic of my dear friend..
He's single ladies,mid-40's and looking. LOL! He'll kill me for doing this.
Okay, back to tatting. It's a good thing I kept a journal, even if it wasn't very detailed.
My next excursion with Maureen was on Friday. She and husband John picked me up and 9:00 a.m. and we drove to Judith Connors' house to pick up Brenda Rewhorn who was visiting from the UK. Brenda is a member of
Ring of Tatters
and you can see her work at the website. We headed out to
Crochet Australia,
owned by Vicki and Ray Moodie, in Wamuran, Queensland. While her focus is on crochet, she carries tons of books and thread for tatting also. And shuttles and fine crochet hooks. I met Betty Franks while there and she signed my newly purchased
Hairpin Crochet Made Easy
copy. I really hadn't planned to buy much thread here - thinking there wouldn't be anything new - maybe some Coates that we can't buy in the States but I'm a long way from using what I already have! But then I spied the Aida thread! Jennifer in Melbourne gave me two balls of it when I met her in Dublin and I love it! I wish it came in a smaller thread size instead of 20, but it really is a nice thread so I got.....several balls of it. I'm already using some of it in my T.A.T. projects though. I was given a nice cup of tea while I was browsing and the other ladies had coffee.
We parted company (and fair amount of money) and headed to
Storeybrook Cottage.
Maureen had booked lunch there and I can't tell you how enchanted I was with it!
We're doing a bit of show and tell here. And there were goodies too! I gave them each one of those cute little storage cubes from Walmart with assorted goodies inside, including a tatted Christmas tree ornament. Maureen gave us these lovely Lanza containers which are wonderful for transporting thread. I put the big Aida balls in it so I couldn't roll it up but Maureen had smaller balls and supplies in hers so it rolled up quite nicely. There is a loop on the end for hanging too. Brenda gave us a Ring of Tatters shuttle and a bookmark from the group. The best things from a trip are what you get from others, both in company and the momentos to remember them by.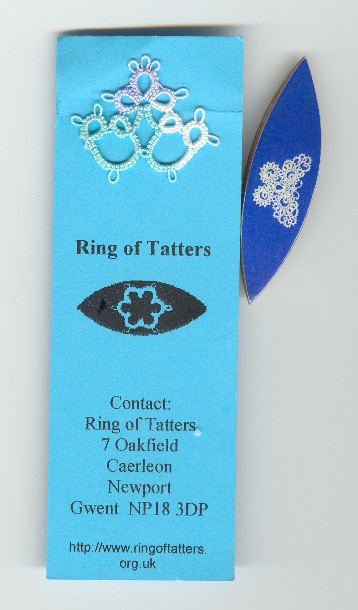 Oh my.....that was a LONG day. I may have to continue tomorrow. Yeah, I'll finish up tomorrow.
Today was my lace group's monthly meeting. We spent nearly the entire time working on a bobbinlace ornament from a 1991 Anna magazine. I didn't get done so I brought it home. sigh.....the bobbins got tangled and yes I know there is a way to prevent that. I thought I had them secured, but I didn't. I sorted the mess out - only 9 bobbins and tried to proceed. I had already made some wrong twists somewhere but I thought I'd finish it anyway, only now I really messed up somehow so I cut it free. LOL! I'm not going to torture the poor thing (or me). I'll try it again on another day, probably after the holidays.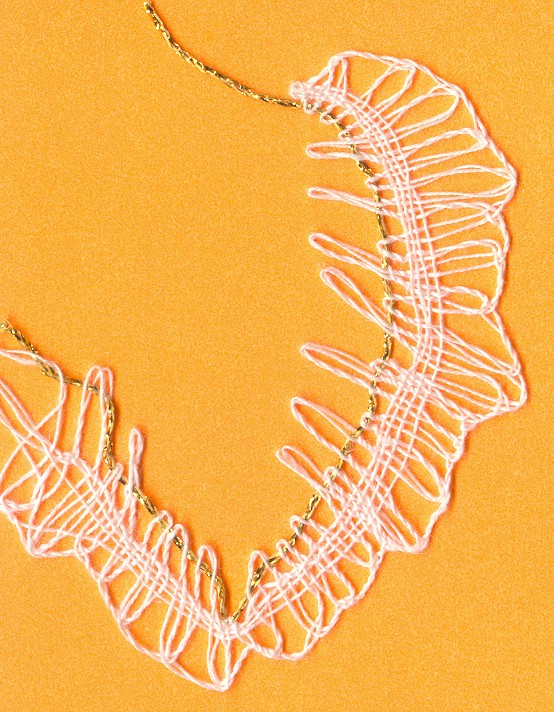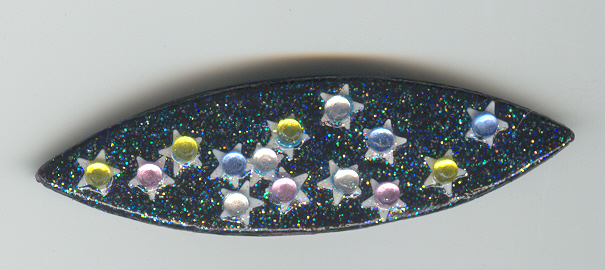 And then I painted a shuttle I've been working on. I love the way it looks but it's not good for tatting. I put a bit of thread in it and tried...concerned about the bumps from the star centers. Yeah.....the thread gets caught on those bumps while tatting rings....unless you have long fingers that cover them. LOL! I don't. The shuttle is as long as my middle finger, even a tad bit longer. Oh well....a pretty!