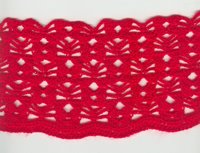 I've been steadily working on this shawl. Hot weather is not normally a good time to work with yarn, in my opinion, but it was very chilly when I started it. It's going along well but I have to pay attention to the rows. This is yarn I bought on clearance a long time ago. I think there is just enough. Maybe not enough for the fringe.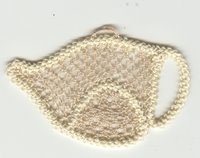 I took a break from crocheting last night and stitched the filling in this teapot. The teapot design arose from one of my cookie cutters. I used traditional colors this time. I'd like to do the teapot again but this time curve the braid so that the lid is separate from the pot and maybe round out the side with the handle. There are lots of variations I could do. I found the filling stitches in a book from the library,
Starting Needlepoint Lace - A Course for Beginners
, by Valerie Grimwood. (Donated by Lafayette Lacers, btw) The stitches all looked the same when I glanced through the book but I picked these two and they are delightfully different. I really like them!
So...what about tatting? Nancy from
Be-Stitched.com
has a new fan bookmark pattern today for subscribers. It says it is for a beginner, but I think it's probably meant for an experienced beginner. LOL! I notice lots of cuts and ties which can't be split rings and you have to pay attention to where to place the next segment.
There are 2 hatbands that are works in progress. I'd like to finish one of them for the fair. There is an art contest for the zoo. I'd like to tat animals and collage them within a painting but I don't think I have time to plan that well before August 1. I have a couple of designs I was playing with that I'd like to get back to. And lots of work to do outside now that it isn't raining anymore. One son has a birthday on Thursday and his wife on Monday......I have no clue what to do for them.
So....back to work.