My sister and I had a leisurely drive to Hector. We started off early afternoon on Thursday and stopped at an Amish restaurant in Ohio where we proceeded to waste a couple of hours between eating and exploring their two floors of fantastic gift items. As I drove by the Xenia, OH exit, I wished we could stop by and pick up Gail. We stopped somewhere in Medina County that night and drove the remainder the next day, arriving mid afternoon. That night we went to the firehouse, bringing a few goodies from the Amish resturant as well as a cheese/meat tray from Walmart. Familiar faces slowly trickled in and my sister and I spent some time discussing the ins and outs of dying hair purple with someone I thought my sister said was named Amy but I do not find an Amy in the booklet we got so apparently that is wrong! The tie-dyed goody bag came with registration in the morning.
We had plenty of time to kill before starting. Mark's plane had been late and Sherry picked him and Erin Holloway up from the same airport. I didn't know Erin was coming until I saw my roster of students and Erin was on there. Talk about confusion! LOL! I thought surely there was a mistake since Erin never peeped a whisper about coming, but arrive she did and with these wonderfully painted bobbins to boot! That girl is always full of surprises!
While waiting for the last to arrive, I talked....and shopped. The 2 Easter Eggs were freebies given to us to hold our thread. The bunny holds a good size ball of thread.
I bought the Hector Hat shuttle from Georgia and the handpainted shuttle from the Lacemaker. I got some threads there too but they were bland colors, purposely bought to help bridge other threads together.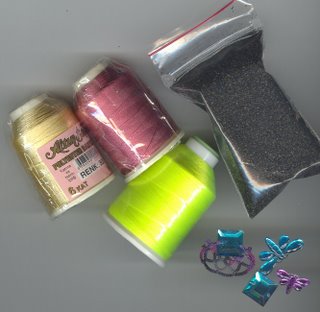 I still don't have everything sorted and put away. Here are 2 of the 3 threads I bought from Rita Cochrane as well as a spool of neon thread from Walmart. Also got these sew on glitters from Walmart - I'd been meaning to check them out for a long time. You can see I did get my hook through the holes to attach my thread. A fun thing to tat later on when I ....HA! have time. The black bag is emery dust I got from Georgia Seitz in case I ever get to make a strawberry for a pincushion!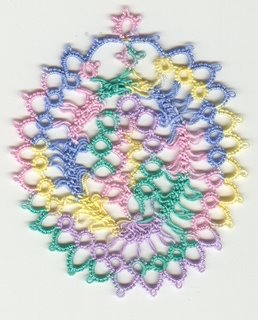 My first class with Mark hasn't gotten too far off the ground yet. I kept making mistakes and decided to wait for another day. The next day wasn't the day, though I did give it a try. LOL! Sunday I had Sherry with her 3D dragon....I got the 1st motif done...hope I remember everything she told us to keep in mind as we finished the other parts. After lunch, I had Mark again, this time with hairpin lace as a base for a motif and I've done hairpin lace before so that went a little easier, except I had my pins too far apart. I can still do something with it but I wanted the smaller ones so I made another one. Later that night I finished the first motif. This is repeated 3 times along with a center and all are joined together to go over a fabric bag. Mark's was very pretty. I re-tatted my center a bit differently. The 1st one looked ratty and I cut it out. The new one is joined somewhat differently. Mark's has a lot of free loops but I joined all of mine.
Photos of people will have to wait. They were on my other camera because the digital one didn't work when I first got it out. I took the other film in to be processed today.