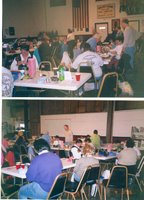 Well here's the "people pics"! These two were during one of Mark's classes. I think it was the Saturday afternoon class since he seems to be everywhere. LOL! This was a rose motif inspired by and looking somewhat like bobbinlace. It's the one I had so much trouble getting started properly. I hope to try again in a few days when I'm more caught up with other stuff. It's really very delicate and pretty. I noticed Tanya (Wonk) has a picture on her blogsite but I can't remember if you can see it clearly or not.
And who do we have here? Looks like Erin who is intensely focused on her work! The second one is Erin and Georgia deep in conversation. For some reason, I didn't get around to spending much time with Georgia.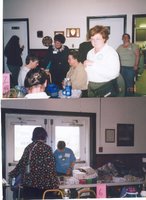 More people pics. This one had Rita Cochrane right in the center. Kaye Judt is standing there too. Sherry has her back to us at the left while shopping. I'm not sure who the others are. Deb Arnold in blue is standing at her vendor table in the bottom pic.
Here's the Silent Auction items. I wanted the basket with the purple wine glasses and a bottle of wine but didn't pursue it very far. I always thought bids at silent auctions were hidden until the end. Knowing I was immediately outbid kinda took the fun out of it for me.
I managed to purchase a copy of Mark Myer's new book before I left. We'll see if it's helpful for the newbies I've been teaching.
I missed out on Ginny's first printing of her coaster patterns, but she brought in one additional pattern the 2nd day and I got that one!