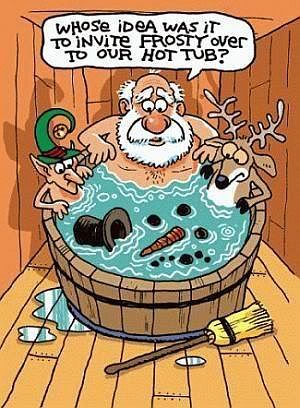 Funny Christmas Graphics provided by MySpaceAnimations.com
I decided to give Jules' Bellflake another try. I used the same silver Altin Basak...and you know what? I found another ball, partially used, in my stash. Someone must have given me a ball somewhere along the line too! Anyway, this tatted up nicely but I continued using chains for the mock rings instead of the SCMR simply because the SCMR is harder on thread and I knew it was more likely to break the metallic part. I had some sew-on crystals from Walmart that I've been dying to use in tatting and it hangs there very sweetly. I just joined it right in when I came to the final join. Only thing is, these teardrop crystals have a hole at each end and you can see it if you look closely.
Well, once I'd made it, then I started getting more ideas! I pulled out a bangle and found it fit perfectly. I could attach as I tat or find a way to whip it on there afterwards. Sometimes that looks nicer. I also wondered if I tatted it in a tinier thread if it would fit inside the earring hoop. I did try it with some size 70 variegated Christmas colors but it was too big. I could lower the stitch count but decided I wasn't in the mood to play that much! I had to get my lace guild's gift done before tomorrow...or I thought I had to until it was postponed because of the weather.
But seeing all those hoops and bangles led me to Carolyn Regnier's book on suncatchers. I decided to try one on the earring hoop and ....yeah...have to make it complicated...I used red heavy duty sewing thread and one strand of red metallic embroidery floss. The little white snowflake is a plastic button which I threaded through the tiny ribbon that I pulled through the hoop top. It makes a lovely suncatcher! Or tree ornament. Next time I might add beads in the clovers.
I was putting together stuff for my lace guild's party and was getting tired of tatting. Then I remembered the bear angel I put together a few months ago and I glued it to this rectractable fob. I'm not sure it will go to a tatter, so I didn't put anything on there....I'll let the recipient decide what she wants to attach.
This little star was originally meant to go on the retractable fob but it was a little too big and I didn't like the way it looked. It will go on an organza gift bag now. It's a motif from Patti Duff's Mini-Tats. The beads were my own addition but even without them, I don't think it looks as good as hers. I may try it with another thread sometime.
Well, now I have all kinds of shuttles with parts of thread on them...maybe I'll do some more mini-tats and emtpy them that way. It's been a tat-productive day!