Amongst other things.....
My flu bug didn't hang around long but a cold came to take its place. I'm still a little congested today but definitely better. The two days prior found me with burning eyes and plugged up nose and just generally puny-feeling.
My daughter's birthday was this week and my granddaughter last week - but I've not felt good enough to be around them - so tomorrow I'll tote their gifts over along with an ice cream surprise!
My lace group met this morning and we planned a bit more for Lace Day on May 7. I'll need to have the Lace Jeopardy board done by the next meeting so we can play it ourselves. We certainly won't have time at the event.
I'm also planning to attend
the Finger Lakes Tatting Group Mini-Convention
in April. I'm riding with friends but first, I had to get my registration sent in!
Then I learned last weekend that I'll be teaching at
Palmettos
in June and I've been working all week on the first project so I'll have scans to send. The second one is already scanned from a prior project. Anyway, just getting that information organized and out has been time-consuming with being sick and having to get caught up at work too.
PLUS.....my tatted quilt block is due to go out Friday and I'm only part way done with that tatting. (sorry Gail!) It did motivate me to go down to the basement a bit ago and bring up the blocks and material for my son's quilt in process.
The pattern is Twisted Log Cabin. These are 8" blocks and you can kind of see how they fit together. The overall pattern will be striking. It's paper-pieced, my first attempt at paper piecing. Keep in mind I was doing this when I taught myself to tat in 1998. I just left it - dead in the water! It's time to finish it - so after all the tatting committments are done, the quilt is next and THIS YEAR!!!!
And I got the name of an exchange partner today for a tatting bag exchange I signed up for a few months ago. I'm really excited about that one too. I bought a few Butterick patterns for bags awhile back when JoAnn's Fabrics had them 99 cents. I don't know which I'll make but I'm leaning towards the white one near the center with the medallion in the middle or the two tone brown/beige one to the right of it.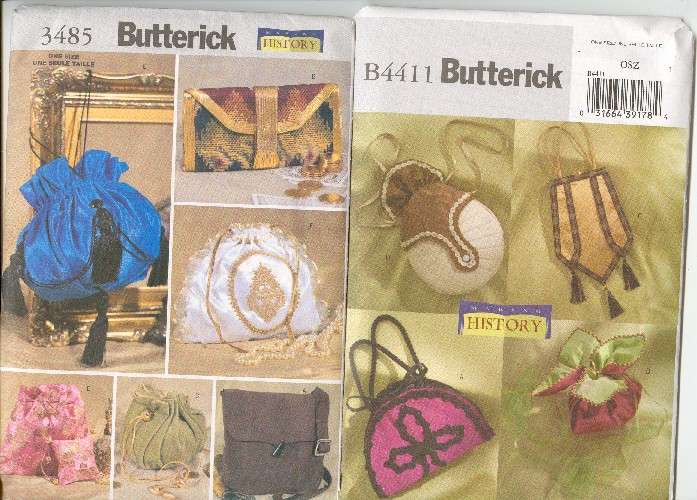 There's some mending for my grandson waiting on me......
I got those jaded knitting needles cleaned off and they look pretty darn good! Makes me want to knit something....and I saw Rosemary knitting lace today at the meeting and that inspired me too - but no, I do not have time right now.
Really.