I had dinner tonight with my godmother at Red Lobster. It was our Christmas exchange/get together.....we tend to wait for better weather. I had her gift at Christmas but wanted to give her a little something else since what I got her was something mostly appropriate for Christmas and here it is - March.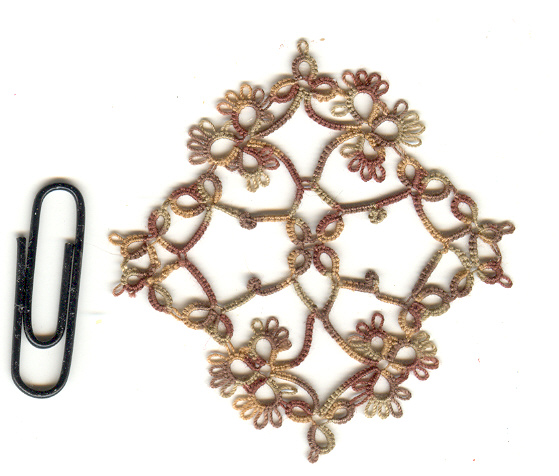 I think this is such a pretty motif. It's from Mary Konior's
A Pattern Book of Tatting.
I had been looking for some snowflake motifs for something else and saw this one and tried to find a reason to tat it. LOL! That wasn't too hard, was it? Also gave me the opportunity to try another King Tut color that I had, #983.
(for Nell.....the thread only broke on me when I tried to undo a josephine knot which is tiny, tiny, tiny!)
I've noticed in this book that Konoir makes liberal use of Josephine knots, which I'm not that crazy about, and she likes to throw rings off of chains a lot too. Just before this one, I had done a motif called "josephine wreath"....well, gee...let me scan it!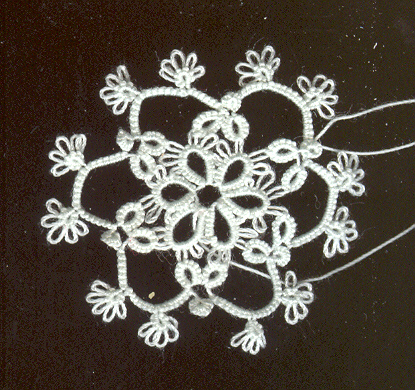 I need LOTS of practice with this tiny size 70/80-ish thread.
Anywho...I liked that motif in that frame so well...and remembered I bought it in a Dollar store - so before I went the grocery tonight, I stopped at a different Dollar store and they had the same frames! It was months ago that I bought it the last time. It's a perfect frame for these tiny motifs though. While I was there, I also picked up a round white frame....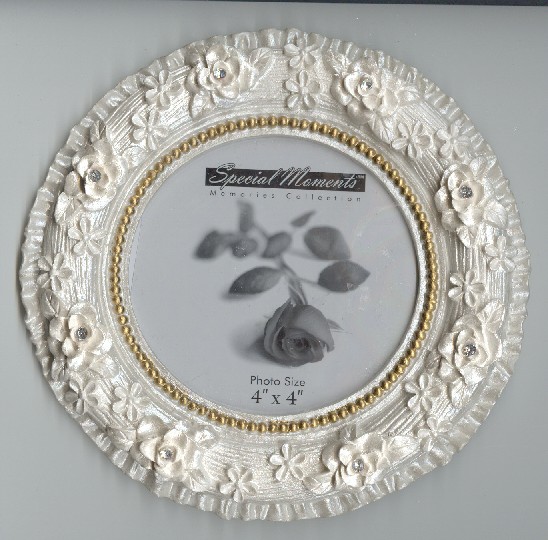 which means I need to find the perfect simple elegant round motif for it! And shall it be white with a colored background or a colored thread on a white background or gold thread on....?????