I went shopping on the spur of the moment after work at Big Lots - one of those clearance places. They have totally revamped the store and it is so much nicer. I found a room divider that I love, but didn't get - I'll put it on my birthday wish list for my family. But I did get a bunch of other stuff. 15 packages of gravy mix - brown, turkey, and country - I use these over cutlets. Easy elegant looking meal. Tastes good too. Also some fancy chocolate dipped cookies. A salt grinder. A dish strainer to fit in the sink. A lap tray on legs that fits in a chair with me and it's white so it's great for tatting projects in black or dark thread - you know, the kind you nearly go blind with because you can't see the stitches? hmmmm .....also got 4 little cans of corned beef hash, something I enjoy for lunch now and then, some lasagna hamburger helper, 12 bars of Safeguard soap. Some plug in room deodorizers. A big bottle and pump bottle of soap. A package of 4 square colored plastic containers, a package of 4 round colored plastic containers, a jar of peach preserves, and................this nifty see through plastic container that has a little round container on top that is perfect for beads and the bottom can hold tatting supplies for a specific project. Tatters are always on the lookout for nifty containers! Grand total: $36.00 I probably forgot something too. Here's the container. $1.29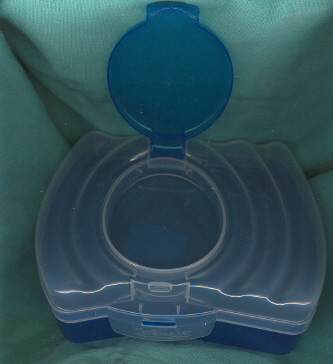 I also received my I.O.L.I. Bulletin today. There are 3 tatting book reviews in there by me this time. It seems there were several books already in the library that had never been reviewed, so I think they are all taken care of now.
Well, son needs the computer for some homework.