Late this evening I started preparing for a family cookout tomorrow and in the process, I listened to the CD Wilma Walker gave me while at Palmettos. Wilma's daughter, Patti, plays the hammered dulcimer with this group. It's absolutely wonderful - amongst the best Celtic music I've listened to! During the years I was visiting Ireland, I bought a few CD's with Celtic on them, usually after test-listening, because very few are really good. This one is good.
Thank you Wilma!
I've been working on Tanya's quilt square. I had it all planned and made the mistake of going to JoAnn Fabrics yesterday to get some new bobbins for my sewing machine. I thought I'd check the fat quarters since there was one fabric I wasn't really happy with....well, their flat quarters (not the fat ones) were on sale for $.99 each and not only did I find the exact fabric I needed, I found about 10 others I HAD to get and in the process, changed my layout for the block. Sigh.....It's turning into a whole lot more sewing than I expected. Hang in there Tanya, I'll get it to you yet! It's not really due til Tuesday, but....it will take a monumental effort to send it out Tuesday since I will also be gone much of tomorrow.
Something that is NOT on the block is the cat motif by Becky Dempsey, from her book Bugs & Beasts. I bought this book for the cat alone.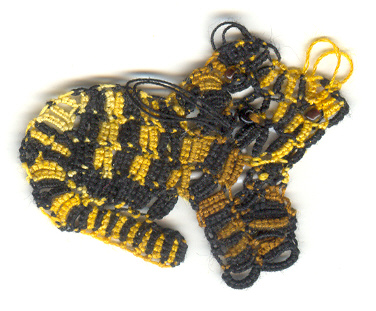 Becky has taken great pains to write all the directions out and these are quite long. Normally, I would like that. But as you can see, I was doing fine with the body but somewhere in the head, I got all confused. I ended up improvising and I'm not happy with it. I was also using size 80 thread in an attempt to make the cat small. It's a perfect size but the head is icky. I was using my post-it religiously but I tatted and untatted so many times I didn't know if I was coming or going. There's got to be a better way to document this one. It's so cute!
Well, it's nearly midnight. Time to get to bed!