Carol Rasor was kind enough to send me some photos she had taken. She said many of the entries had already been picked up by the time she got to take them but there are plenty here for you to ogle. They are being uploaded in the order they ended up in my picture file.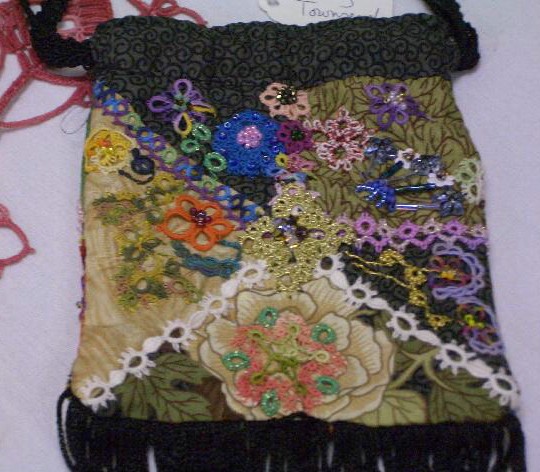 This bag might belong to Sherry Townsend. A tag was seen in the photo (cropped now) with her name but we couldn't tell if it was attached to this or not. 6/26/05 Yes -it is Sherry's.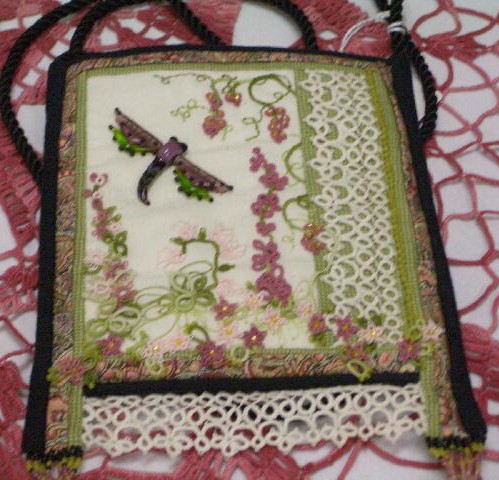 Bag with dragonfly by
unknown maker
Thanks to Mimi - this bag was made by Karen Miner.
Beanile picture - maker also unidentified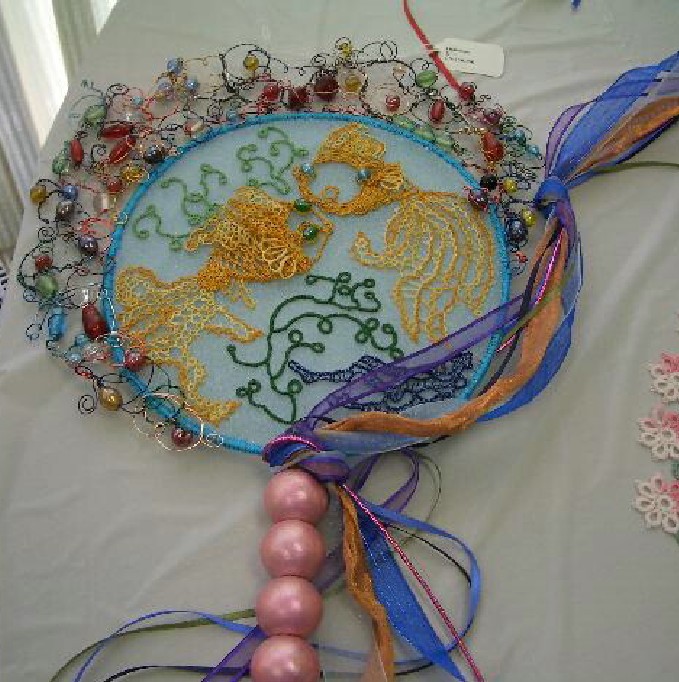 Fan by Erin Holloway. It's kind of hard to tell here but if you click on it and see the larger version, you can see these are goldfish - I think like angel fish but I don't know what they are called. Very creative Erin - and colorful!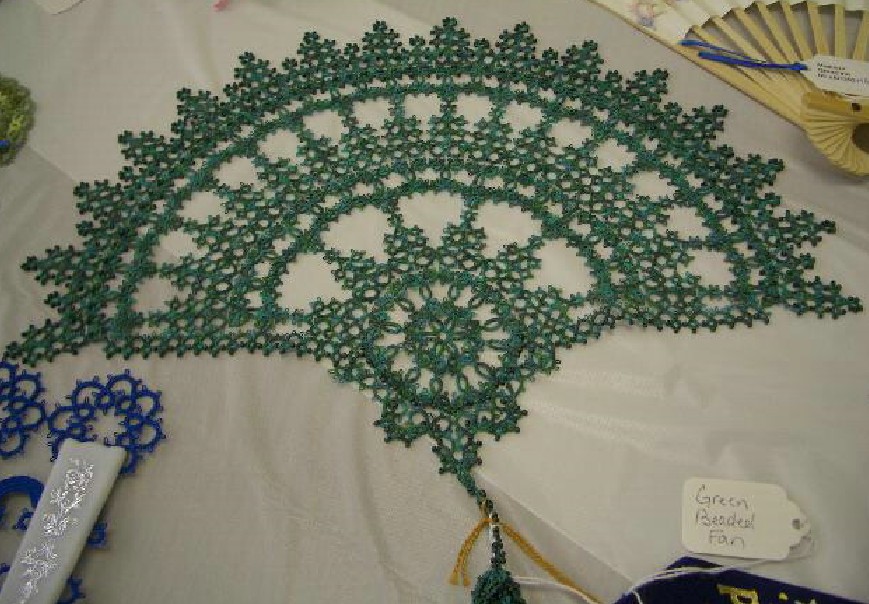 Fan by Gail Owens. The photo doesn't do this fan justice. You can't see the color play or the beads but it was gorgeous. And she almost didn't enter it!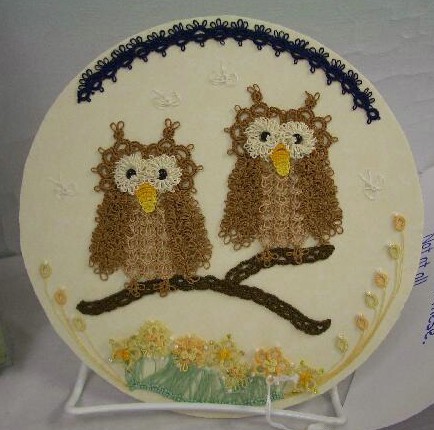 Owls by Jane Eborall. Jane also had some flower fairies entered that I adored. Unfortunately, we don't have a pic.

Fan by Leeann Shaw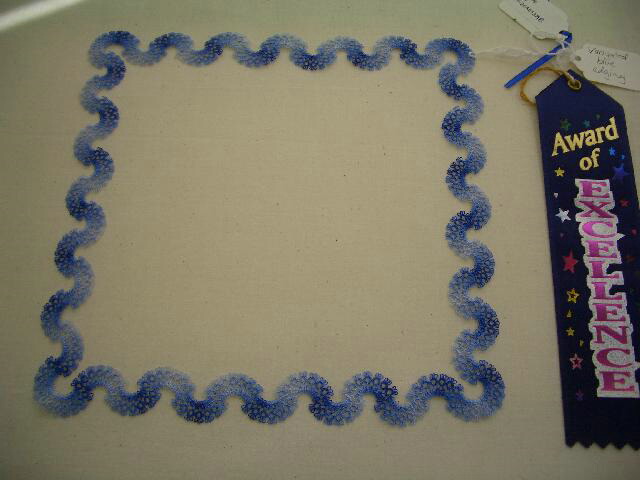 Edging by Lori Dunlap. Again, you can't really see the beautiful shading of the thread. It was a very fine thread.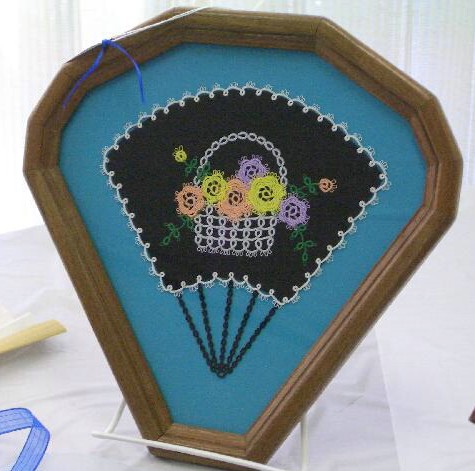 Fan by Lynda Krupka. Her husband made the fan box and also the box for Carol Rasor's fan, which is coming up!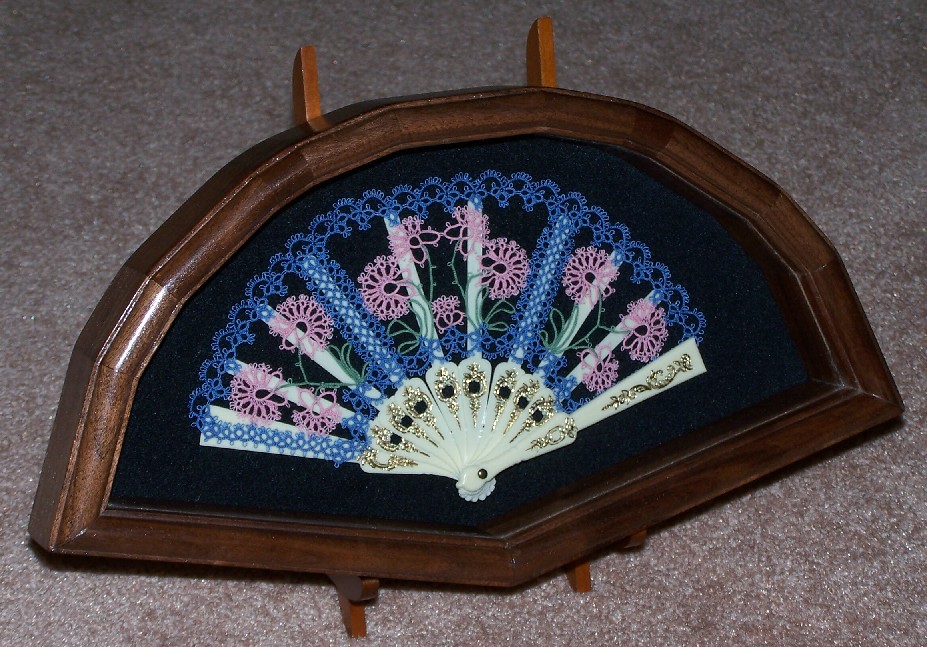 Fan by Carol Rasor. Carol received a perfect score in the judging! Beautiful Carol!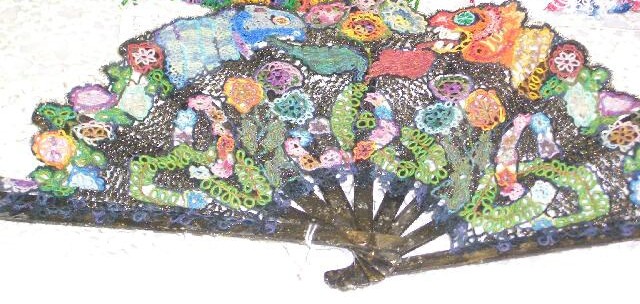 Fan by Sherry Townsend. Sherry missed the deadline for judging but was able to disply her fan. Another beautiful fan!

I enlarged and cropped this out of one of the other fan photos Carol sent me so the clarity isn't real good and the maker is unidentified. This is like the one I made 2 years ago....and decided not to enter because I knew the craftsmanship on mine wasn't very good. It was my first attempt to tat in rayon embroidery floss. It's pretty, but is not a good example of good tatting. No need to punish myself. LOL!
My lace group met this morning. Bette introduced beginning crochet as a program and brought lots of Anna magazines and other pattern books for us to drool over! I have a few tatting committments before I can take up a crochet project again, but it sure was tempting!
After lace group, I went to a wedding in the tiny burg of Linden, Indiana. As I left the town, I noticed an Antique store and decided to pop in and just take a quick look - who knows? Maybe there would be a shuttle. I had almost given up on the shuttle possibility when I looked at a case for the second time and saw them....THREE of them! How could I have missed them? LOL! The black one has a tiny hook on it. I thought I had one like the silver-plated one, but only the engraving is very similar. The one I already had is larger and doesn't have the hole in the middle. The ivory one - well, I've got lots of those now. The gentleman asked me where I found it - seems someone had been asking about shuttles just last week - guess he didn't realize he had them. Lucky me!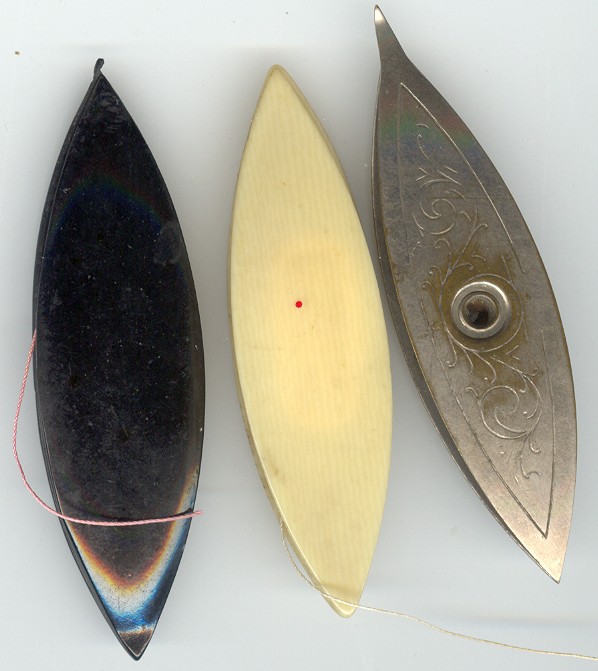 AND
......When I got home Friday night, there was a package in the mail for me. My quilt block from Tanya! Tanya also included a ball of variegated pink thread in size 70. Thank you Tanya. You can see Tanya's work
here.