My oh my! What a week!
I didn't take that first picture and this afternoon, I was regretting it - what will I show everyone?
Like that's really a problem.
I started scanning...and scanning....and scanning......
Perhaps I should start at the beginning when I left home on Wednesday, June 1, later than I wanted but not too late. I had the car packed and snacks and water in the cooler. I made a few stops along the way for gas and drinks and potty stops, but nothing major. The drive was pleasant, the weather good. I stopped at a place about 45 minutes away from where I was to pick up Jane. It was getting quite overcast and I was to soon go through a section that might be confusing if I wasn't quite alert and I didn't want to end up backtracking. I stayed at a Super 8 Motel which was only $35 plus tax for some reason. Clean, adequate. I ate dinner at a Waffle House nearby. Called Jane and we arranged for 10:00 a.m. as the time to meet. We had arranged to meet at a place called the Beehive. A coworker told me there were beads there and we would love it.
Wrong!
It was bead
jewelry
. And purses and bags and other things having more to do with home decor. I got a couple of bracelets for $1 each and a couple of necklaces for the way they were made, also $1 each. Then I got a little rolling bag for $6 which worked perfectly for hauling my stuff to the classroom. That one was a good buy - but we were both disappointed that the store was not what we expected it to be.
So, with pick up directions from Jane's family and goodbyes, we set off for SC. It was only about a 4 hour drive from there. We stopped along the way at a Crackerbarrel and had lunch. We had no trouble finding the place. I was there last year, but had come a little different route for some reason. Anyway, Jane is quite good at reading the map, considering it's not her country and she's unfamiliar with the signage and landmarks. It was great help having her watch for the signs!
So we arrive at Columbia University and go in. No one was at the registration table yet, but there were people inside. We were greeted right away ......... but it took me awhile to connect faces and names. Poor Erin.....I knew I knew her but it didn't hit me who it was at first! Sorry Erin! I recognized the ladies from Canada that we met in Hector and who were also at Palmettos last year, but I couldn't for the life of me remember who was who at first! It all came together later though. Eventually Bonnie made it from work and the registration started. In the meantime, Jane & I had taken our competition entries over. I only had 2 and one was for display only. Jane just kept laying things down and trying to match them up with the paperwork. I hope someone has photos to share of all the beautiful tatting!
We found our dorm rooms, pulled up the car and unloaded. I like to get a room to myself - it helps me stay grounded with so much intensity from the event. My room was better than last year. I don't remember carpeting, for one thing, but we were in a different building.
As the evening wore on, I caught up with Hope, and Sherry, and Mary Donahue, and the Palmettos Guild staff as well as many other teachers. We had dinner and then there was a teacher/aides meeting. During registration we got lovely lavender tshirts - I will have to take a pic after I wash it. We also got a nice plastic case with a handle, about 7" x 11" and 3" deep, filled with goodies. We also got a basket with even more goodies! There was a tatted chatelaine with a permanent marker attached for signing books and shirts.
Mine was tatted by Julie Brennan, whom I met later and was able to thank personally.
I got a lovely peach colored tumbler with a palm tree on it - everyone got one in different colors. Very handy in my room for brushing my teeth! Numerous little plastic cases. A water bottle snuggie in a fan motif fabric. A tatted shuttle bag, tatted by Joanie Culverhouse, whom I did not meet and did not get to thank in person, but I'll find her email and do so. In the meantime, Thank you Joanie! Oh - just remembered another thing to scan! Sherry and I exchanged shuttles and butterflies. The shuttle goes so perfectly with the shuttle bag.....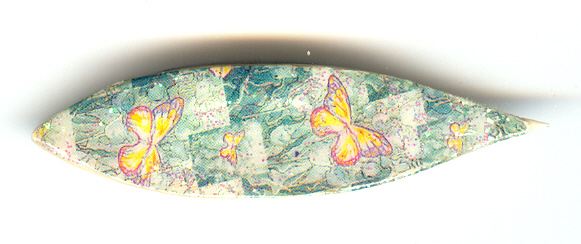 And here's what I gave Sherry.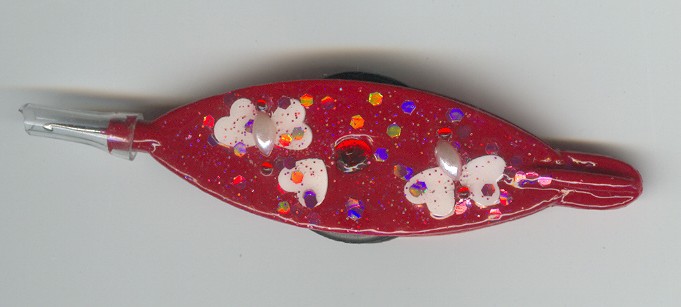 And the butterflies.....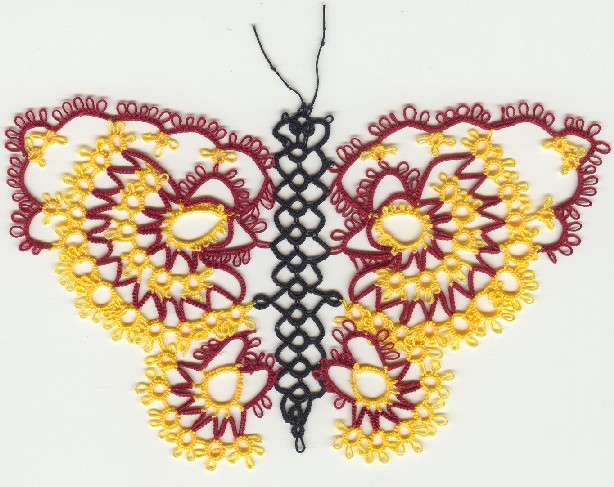 mine to Sherry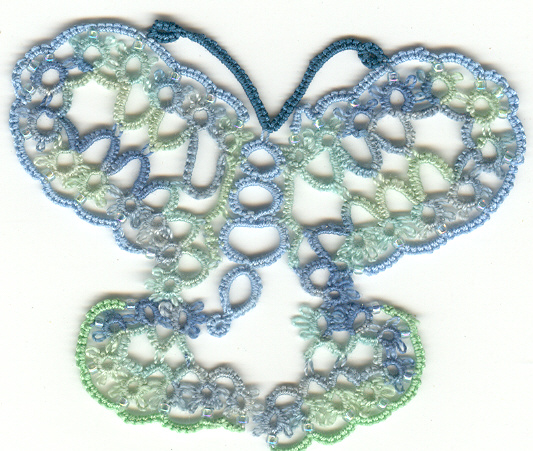 Sherry's for me
and here's more goodies....
Cards tatted by Betty Magill
The plastic container with the fan was meant to hold butterflies and stuff to donate....not that I ever got to tat any. The water bottle holder with the fan motif fabric. The little wire dog was given to me by Ruth Perry the next day.
Okay...more tomorrow.