This morning I went to tatting guild in Greenfield. The forecast was nasty so not many of us there. I took Tami, a tatter I met at a church bazaar last year, with me. The roads were fine going there. About half way back, they started getting bad, but we made it home fine.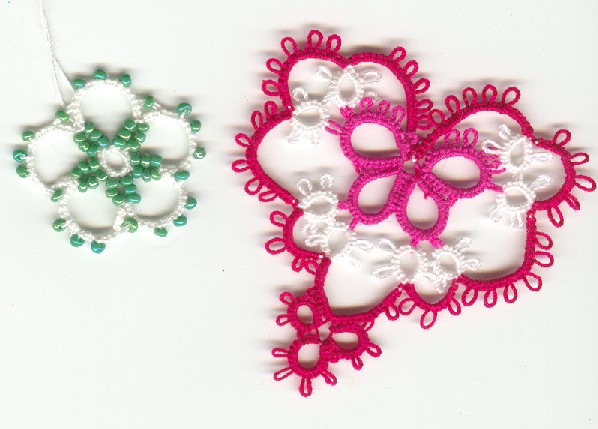 Last night I was trying to empty some shuttles and tatted up this
Heart of the Butterfly
by Irene Woo. The pattern is also in
Online Tatting
, edited by Georgia Seitz. I was going to use two shades of pink but then I saw I was going to run out of one color, so I switched to white for the inner rings. Now it looks like I have red, white and pink. LOL! That red just looked like a really deep pink last night! I remember the 1st time I tried that pattern a few years ago - how I struggled to find a starting point. It's little things like that which tell me how much I've progressed in tatting.
The beaded flower/snowflake was taught by Kaye in tatting guild today. It won't be long before Kaye has a book ready for us. This was a very simple project, but I like the flower effect and it gave me lots of ideas.
I spent money there too.
I got Dianna Stevens'
Animal Bookmarks
, Tatting Fantasia by
Iris Niebach
,
Tatted Easter Eggs
by Kirsten Wind Hansen, and Joy Botchlet's Cluny Tatting Designs.
hmmmm....I might have to tat
something
from one of these tonight!