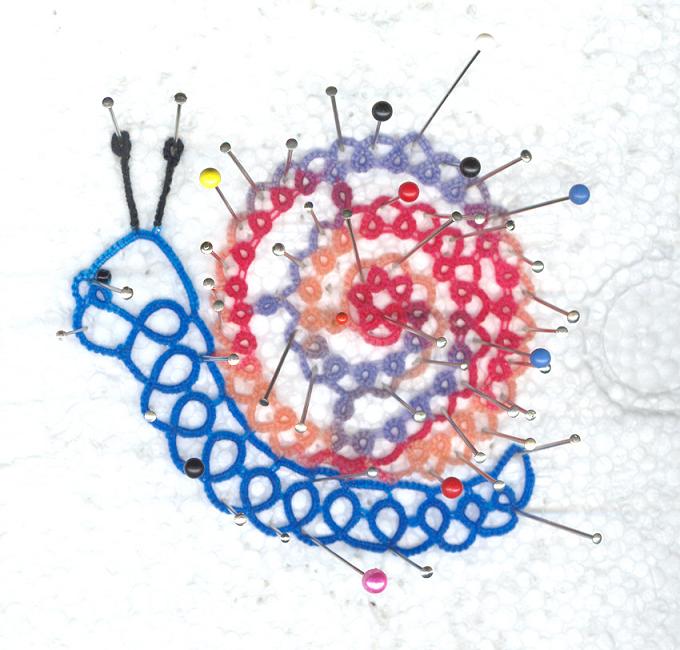 The snail is from
Tatted Animals
by Inga Madsen. He's blocking now.
I got smart with this one, realizing I will probably want to tat some of these critters again, and measured my thread. I used Altin Basak size 50, which is a cross between 20 and 30 for most people. Maybe we should call it 20 1/2? I don't tat tightly or loosely either one, so the measurements should be a good base point. I wouldn't really go with any less if I was a tight tatter because I had very very little thread left over and you always want a little extra, in case you have to cut out a mistake. What I measured onto the shuttles worked out fine although I was beginning to wonder with shell part. I think I switched shuttles near the latter part to make sure I had enough for rings, but I'm not sure I didn't switch shuttles at some earlier point. There are a couple of places where you made a ring on a chain. Gosh, it's been several days now.........I made the chain ds to the point where the ring was to be, and then used the chain shuttle to make the ring. I think I looked at directions for the self-closing mock ring too when I was trying to decide what to do. The diagram shows a "switch shuttles" symbol. If you've been tatting awhile, you can figure it out but if you are a new tatter, the diagram will be a challenge. It's clear, but you have to know the various techniques to understand. When in doubt, read the directions!
I just saw in the front of the book where she gives those techniques.
I need two more animals for the storybook. I'm going to do the swan from an online source - don't have the link handy at the moment, but when I post it, I will. The other page will be butterflies and flowers I've already tatted. I thought I would have it done by now, but it's been a busy week. Someone said I should enter it into the county fair but I would rather make a new one to do that with....next year. This one goes to my niece and I don't want to ask her for it back. Besides, there are changes I would make now.
I might have the opportunity to learn some bobbin lace next weekend at our Lace guild meeting. I'm the community projects person for the group and someone from the Historical Society emailed and said they had a pillow in their storage closet...........was it ours? A quick email to the group brings up the assumption that it's a demo pillow that got left behind at some point, so I picked it up and will bring it to the meeting. The prez of the group has graciously offered to teach me on it if I like. If I like it (and I know I will) that means I'll have to get my own pillow eventually. LOL! I've been trying real hard NOT to get involved in another lacecraft but I can't pass this offer up.
On another note, I had an email from someone who lives in Oregon now but is from my area. She is a fairly new tatter.............the craft that binds us together no matter where we live.
I'm registered for the Palmettos Lace Day in June and wow! I had a hard time picking classes and sure hope I still want to take those same ones when I get there. This is going to be great fun! I'm going to be there the day or so before and a day or two after. I haven't had time to work out all the details yet.
I just played around in painting class this week with washes. One ended up being a sort of landscape, which I have no intention of finishing and the other is definitely unfinished, but a fun play with color. The instructor suggested I enter the teacup in the showing at Payless during May. I think I'd rather do a new one.
Time to close for now.