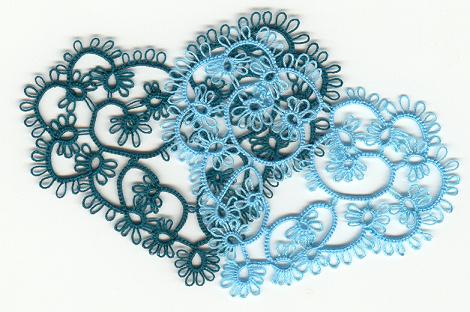 I finally got the hearts done today. I started the lighter one during a family reunion today. I still need to mat and frame them. They are done in size 70 thread. One is DMC and the other is Venus.
I'm not sure what kept me so busy last week that I didn't post any entries. I had a lace meeting Thursday night but other than that, I don't remember being overly busy. I did manage to walk the treadmill..........that eats up a good part of my evening. Got my hair cut another night. Groceries on another night. Oh well.....
More Maynard flowers. Same pattern for the most part. I used some size 12 Valdani thread I forgot I had stowed away. Sometthing just occured to me. These are rings only - you only need one shuttle, but if I were to use 2 shuttles, I could use one color for the inner rings and one for the outer rings. I would have to cross shuttles to keep them interlocked though. It's very late or I would give it a try now.
In fact, I'm outta here!
(z's are calling!)